SECURITIES AND EXCHANGE COMMISSION

Proxy Statement Pursuant to Section 14(a) of the
Securities Exchange Act of 1934
(Amendment No.    )
Filed by the Registrant

ý

Filed by a Party other than the Registrant

¨

Check the appropriate box:

¨

Preliminary Proxy Statement

¨

Confidential, for Use of the Commission Only (as permitted by Rule 14a-6(e)(2))

¨

Definitive Proxy Statement

ý

Definitive Additional Materials

¨

Soliciting Material Pursuant to §240.14a-12
Meritage Homes Corporation

(Name of Registrant as Specified In Its Charter)

(Name of Person(s) Filing Proxy Statement, if other than the Registrant)
Payment of Filing Fee (Check all boxes that apply):

ý

¨

Fee paid previously with preliminary materials.

¨

Fee computed on table in exhibit required by Item 25(b) per Exchange Act Rules 14a-6(i)(1) and 0-11.
---
In the proxy statement filed by Meritage Homes Corporation ("we", "our" or the "Company") on March 24, 2023 for our 2023 Annual Meeting of Stockholders, as supplemented from time to time (collectively, the "Proxy Statement"), the cumulative total shareholder return ("TSR") for both the Company and the peer group was incorrectly stated in the section "Pay versus Performance". We are filing this supplement to correct those TSR disclosures. Set forth below are the corrected disclosures found within the "Pay versus Performance" section of the Proxy Statement. The only figures adjusted in the table and charts presented below are the Company cumulative TSR and the peer group cumulative TSR.
The following table provides information regarding Compensation Actually Paid ("CAP") to our Principal Executive Officer ("PEO") and non-PEO Named Executive Officers ("NEOs") during each of the past three fiscal years, as well as total shareholder return, net income, and return on assets ("ROA").
Value of Initial Fixed $100 Investment Based On:

Year

Summary Compensation Table Total for PEO

CAP to PEO

Average Summary Compensation Table Total for Non-PEO NEOs

Average CAP to Non-PEO NEOs

Cumulative Total Shareholder Return
(1)
Peer Group Cumulative Total Shareholder Return
(1)
Net Income
(in thousands)
Company Selected Measure
(ROA)

2022

$

8,015,467 

$

5,124,002 

$

2,771,835 

$

1,463,392 

$

150.88 

$

142.70 

$

992,192 
20.7 

%

2021

$

7,915,603 

$

13,521,596 

$

3,765,401 

$

6,630,450 

$

199.74 

$

184.74 

$

737,444 
20.7 

%

2020

$

9,557,390 

$

15,676,557 

$

3,283,577 

$

5,296,314 

$

135.53 

$

122.47 

$

423,475 
13.9 

%
(1) We elected to use the Dow Jones US Home Construction Index as our peer group. The graphs below illustrate the relationship between our cumulative TSR and peer group TSR, and the relationship between our CAP and the cumulative TSR for both the Company and our peer group.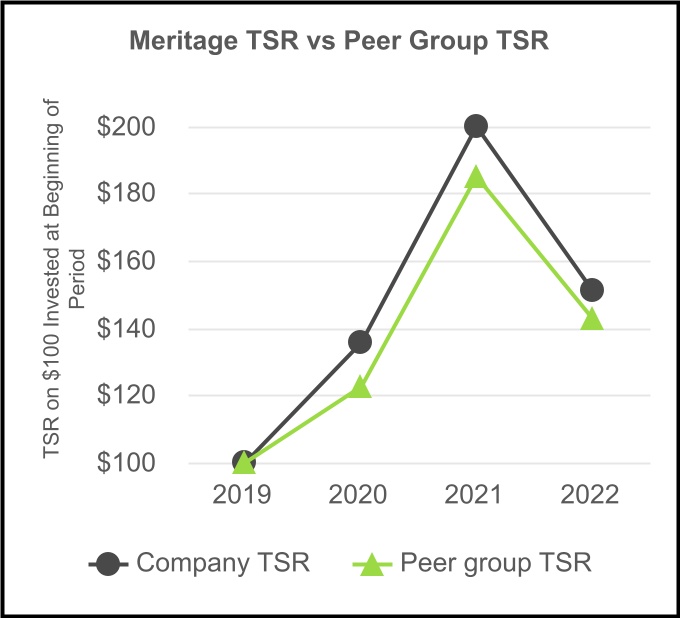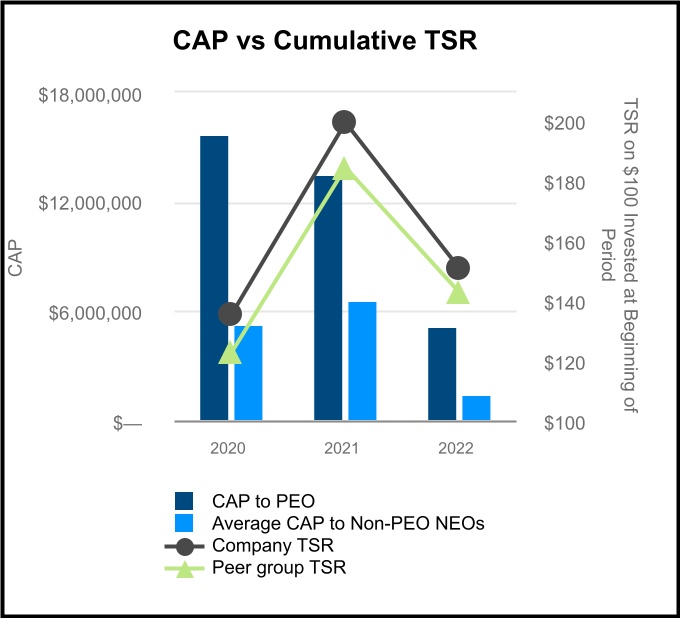 Except as specifically discussed in this Explanatory Note, this supplement does not otherwise modify or update any other disclosures in the Proxy Statement. This supplement should be read together with the Proxy Statement, which should be read in its entirety.