Meritage Homes Honored With 2023 Hearthstone BUILDER Humanitarian Award
The homebuilder was also recognized by additional awards for its commitment to sustainability, high homebuyer satisfaction ratings, and overall leadership in the industry.
SCOTTSDALE, Ariz., May 02, 2023 (GLOBE NEWSWIRE) -- Meritage Homes, the fifth-largest homebuilder in the U.S., was honored with the 2023 Hearthstone BUILDER Humanitarian Award for its philanthropic and volunteer efforts last night. Presented by the editors at BUILDER magazine in partnership with Hearthstone, the leading private investment partner in for-sale housing in the U.S., this annual award recognizes homebuilders who demonstrate a lifetime commitment to public service.

"Hearthstone is proud to recognize Meritage Homes as our winner of the 2023 Hearthstone BUILDER Humanitarian Award," says Mark Porath, CEO of Hearthstone. "The Meritage Cares program is more than a catchphrase. Starting with the executives and cascading to all Meritage employees, they have made the commitment to care for others a part of their company culture, by dedicating time, attention, and resources to helping support those who serve us in the military and children and families who are in need. Being able to highlight Meritage's good deeds is exactly the reason the Hearthstone BUILDER Humanitarian Award was founded."
"At Meritage, we are all very honored to receive this year's prestigious Hearthstone BUILDER Humanitarian Award," shares Phillippe Lord, CEO of Meritage Homes. "Our employees embody our core value of Start With Heart each and every day. We are particularly proud of what our teams accomplished in our national giving campaigns from building and donating mortgage-free homes in our communities to veterans to packing meals to fight hunger and hygiene kits for refugees. Through in-kind and cash donations, Meritage has donated over $6.5 million."
The Hearthstone BUILDER Humanitarian Award has contributed $7.5 million to various charities since 1999, making it the single largest charitable award program in the homebuilding industry. In connection with this year's award, Meritage selected the nonprofits, No Child Hungry and National Association of Women in Construction, to receive the cash award, which supplemented with donations from Meritage and its vendor partners, totaled $400,000.  
Additional Award Wins for Meritage Homes
Meritage was honored to become a ten-time recipient of the U.S. Environmental Protection Agency's (EPA) ENERGY STAR® Partner of the Year – Sustained Excellence Award. Given our longstanding commitment starting in 2009 to build 100% energy-efficient homes, we have completed over 112,000 Meritage ENERGY STAR certified homes and are proud to be an innovator in the sustainability space.
In the 20th annual Avid Awards®, Meritage was recognized for its customer service excellence. Thirteen Meritage divisions were honored, including Southern California, which won the Avid Cup – Production for a second consecutive year. The Avid Cup is the program's top honor, with only one builder in North America receiving the award for the highest customer satisfaction ratings in the production category. The Nashville division was honored with the Gold Award – Production for having the highest customer ratings in the production category in the southeast region. Meritage's Atlanta, Charlotte, Dallas-Fort Worth, Denver, Greenville, Houston, Northern California, Orlando, Phoenix, Raleigh, and San Antonio divisions took home the Avid Benchmark Award for scoring among the top 25% in customer ratings nationwide. 
Fortune recognized Meritage as one of the World's Most Admired Companies for 2023, a ranking of the best-regarded companies based on reviews from executives and board directors within their own industry regarding customer satisfaction, employee engagement and development, innovation, social responsibility and financial strength.
Lord continued, "We proudly celebrate these honors from the EPA, Avid, and Fortune, as they are aligned with our corporate values and further our goal to continue to grow our responsible corporate stewardship."
To learn more about Meritage's philanthropy, please visit www.meritagehomes.com/why-meritage/meritage-cares.
About Meritage Homes Corporation
Meritage Homes is the fifth-largest public homebuilder in the United States, based on homes closed in 2022. The Company offers affordable, energy-efficient entry-level and first move-up homes. Operations span across Arizona, California, Colorado, Texas, Florida, Georgia, North Carolina, South Carolina and Tennessee.
Meritage Homes has delivered over 165,000 homes in its 37-year history, and has a reputation for its distinctive style, quality construction, and award-winning customer experience. The Company is an industry leader in energy-efficient homebuilding, a ten-time recipient of the U.S. Environmental Protection Agency's ("EPA") ENERGY STAR® Partner of the Year for Sustained Excellence Award since 2013 for innovation and industry leadership in energy-efficient homebuilding, and the recipient of the EPA's 2022 Market Leader Award for Certified Homes as well as the EPA's 2022 Indoor airPLUS Leader Award.
For more information, visit www.meritagehomes.com. 
| | |
| --- | --- |
| Contacts: | Emily Tadano, VP Investor Relations and ESG |
|   | (480) 515-8979 (office) |
|   | investors@meritagehomes.com |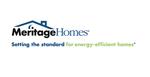 Source: Meritage Homes Corporation

Released May 2, 2023